Click on the links below to see and hear video of the band at various festivals and venues.
Many thanks to Rae Ann Berry for recording, editing, and placing these videos on YouTube!
---

Back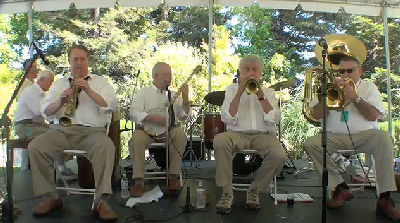 GGRM at Cline Wine and Jazz Festival, Sonoma, CA, July 20, 2009
From left to right: Bob Hirsch - Piano, Jim Rothermel - Soprano Sax, Scott Anthony - Banjo, Bob Schulz - Cornet, Gary Reynolds - Trombone. Hidden - Bill Maginnis - Drums, Jim Maihack - Tuba.