Scott Anthony NWS
California Artist
Scott began painting in watercolor during his first year at Dartmouth College in 1966. Within a year, a local Hanover, NH gallery approached him to offer to sell his paintings. His landscape painting was a perfect compliment to his chosen major in Biology specializing in Ecology and Evolutionary Biology. His motivation for painting was always and still is his deeply felt desire to share with others the beauty and unity of the natural world.
While attending graduate school at Princeton, Scott painted in his spare time, and was elected to the New Jersey Water Color Society. He also attended the National Academy Of Design in New York for half a year and studied watercolor with the late Mario Cooper, past president of the American Watercolor Society.
After moving to San Francisco in 1974, he continued to paint landscape and seascape, especially the spectacular Northern California coastline and nearby countryside. The old buildings, boats, and wharfs of San Francisco also appealed to him, particularly late in the afternoon when the warm light creates a wonderful play of light, dark, and color. He was elected a signature member of the National Watercolor Society in 1977, and won a purchase award from the Laguna Museum of Art in the NWS Annual juried show that year.
Scott is a software developer and worked for Access Softek in Berkeley, CA from 1999 until 2006 as well as on a variety of other independent contract software projects. He now paints as often as he can and plays his banjo and guitar as much as possible. He is also the leader of the nationally known Golden Gate Rhythm Machine, a traditional (Dixieland) jazz band in San Francisco.
A few years ago, Scott began to take up playing guitar and, because he enjoys "doing it myself," built an archtop jazz guitar from scratch. This beginning led to, now, more than 30 custom instruments built and being played by almost as many musician clients. A website devoted to these Golden Gate Rhythm Machines is under construction.
Silkscreen Prints (click here to see)
NEW! Dartmouth College Watercolors created for DartmouthImages.com who produce high-quality reproductions of these originals.
M

ost of Scott's subjects come from northern California where there is a tremendous amount of material for his landscapes and seascapes.

Since building his house in Weed, CA, near Mt. Shasta, Scott has painted Mt. Shasta many times, attracted by the almost unbelievable range of color and mood that the mountain provides. He also gets many ideas from the numerous trips he makes to the Pacific Northwest, the mountains of central and southern California, and the desert Southwest to play at jazz festivals with his and other bands.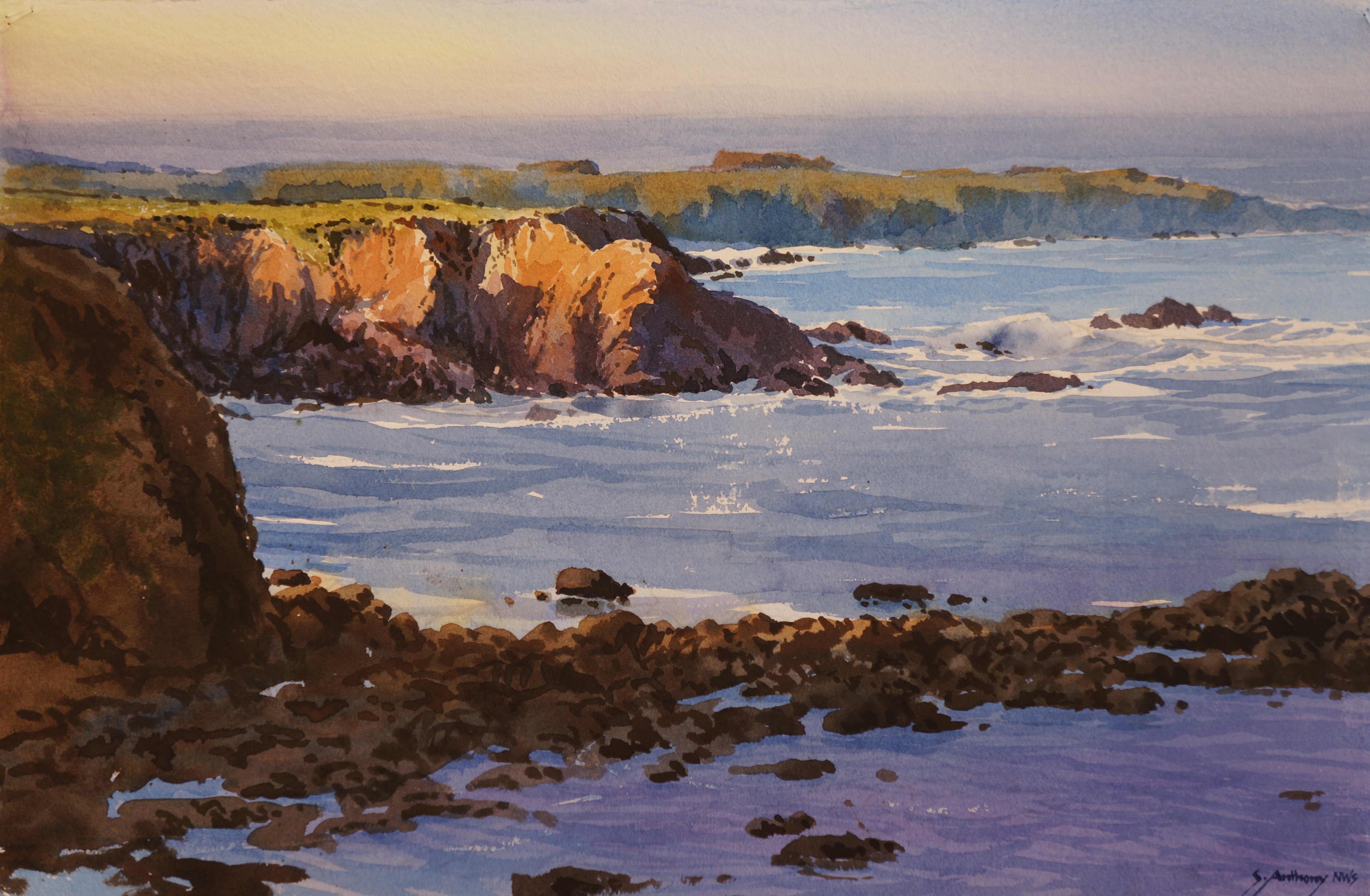 Mendocino Morning Light
Watercolor on 200lb. Winsor & Newton CP, 22" x 15"

---
I

n 1979 Scott was approached by the Richard Mann Gallery of Los Angeles to produce Serigraphs (silkscreen prints) of selected paintings. These prints were published by Palm Editions, a subsidiary of the Richard Mann Gallery. Within a couple of years, Fidelity Arts, also based in Los Angeles, took over the agreement, and Scott continued to produce silkscreen prints and paintings for the next 5 or 6 years.
Most of the approximately 30 original, hand-printed, hand-color-separated Serigraphs to be offered for sale online can be seen by clicking here.
If you have any questions, or would like to purchase an item, please send me an email to santh@comcast.net
---
Quick Art Biography
Live/work San Francisco, 1974-2006 Pacifica, CA 2006-present

Main media watercolor and acrylic

30 Silkscreen Print editions 1980-1986 for Palm Editions and Fidelity Arts of Los Angeles

Signature member of National Watercolor Society and New Jersey Water Color Society

Signature member of the National Society of Painters In Casein And Acrylic

In over 3000 corporate and private collections including Union Bank, VISA Corp., Del Monte.

Represented by:

Home Decor Shop and Gallery, Hanover, NH 1968-1974

Swain's Fine Art Gallery, Plainfield, NJ & Morristown, NJ 1971-1975

The Ragged Sailor, Tiburon, CA 1974-1975

Maxwell Galleries, San Francisco, CA 1976-1984

Richard Mann Gallery, Los Angeles, CA 1979-1982

Fidelity Arts, Los Angeles, CA 1982-1987

Piedmont Lane Gallery, Oakland, CA 1987-1989

Black Bear Gallery, Mt. Shasta, CA 1999-2001