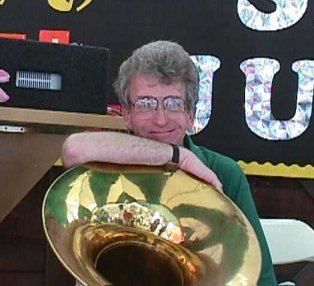 John Moore at Bartenders Backyard
25th Annual Sacramento
Dixieland Jubilee, 1998
Photo by Donna Courtney
John is our only true San Francisco native, born here May 24, 1941. He started playing professionally in high school at age 15 and has been a professional musician for most of his adult life except for a number of years in the advertising business. He attended San Jose State University from 1959 to 1964 majoring in music and advertising.
Some of the highlights of his musical career include performances with legendary musicians Lionel Hampton, Guy Lombardo, Peanuts Hucko, Eddie Miller, and Bob Crosby's Bobcats. His non-jazz experience includes the San Jose Symphony, and the Santa Clara Philharmonic Orchestra.
John's current musical interests span a broad range of styles, from symphony and opera, through rock and country, to jazz and traditional jazz, switching comfortably between tuba, string bass, and electric bass. He plays in many local groups including the Hot Club of San Francisco, Don Neely's Society Six, and, of course, the Golden Gate Rhythm Machine.